Mandarin Class Klang
Click here for Table of Contents
Are you considering which Mandarin class to enroll? Here are the top 7 criteria to consider when choosing a Mandarin class Klang.
1.Proven effective ways to learn Mandarin. Check and see their students' progress and results. 
> Please read our reviews on our facebook page
2. Guarantee students can speak fluent Mandarin. 
> Yes, we're the only centre that offer FREE 6 months revision class.
3. Offers online Mandarin class and lifetime support.
> Yes, we offer FREE online class and lifetime support benefit for our students.
4. Choose Mandarin class that offer long term classes. Language acquisition requires time and effort. it is a long process.
> BBC course duration is at least 6 months to make you can speak fluent Mandarin
5. Choose language centre that specialise in teaching Mandarin.
> We only focus in teaching Mandarin
6. Choose Mandarin class that offers flexible schedule. So that you can still catch up even if you miss a class.
> BBC students can switch to other classes or branches.
7. Choose Mandarin class that developed in-house course materials.
> We constantly do research & development to improve our course materials & teaching quality
Do you know… We are the only Mandarin class Klang that fulfill all these 7 criteria
Our satisfied corporate clients
– Petroliam Nasional Berhad (Petronas)
– Sapura Secured Technologies Sdn Bhd
– Invest Selangor Bhd
– Les' Copaque Production (Upin & Ipin)
– Pihak Berkuasa Kemajuan Pekebun Kecil Perusahaan Getah (RISDA)
– Maahad Integrasi Tahfiz Sains & Teknologi Istana Bandar, Banting
– QS Enrolment Solutions APAC​
– Acre Works Sdn Bhd
– Kian Joo Can Factory Bhd
– Mutiara Smart Sdn Bhd
– bzBee Consult Sdn. Bhd
– Open Learning
– Gamuda GM Klang Sdn Bhd
-etc…
Why many Malaysians learn Mandarin?
1. Malaysia has a Chinese population of approximately 25%

Being able to communicate in Mandarin with Chinese people strengthens bonds and understanding. Cross-cultural friendships, expanded career opportunities, exciting travel adventures, and deeper insights into how others see the world will benefit you for the rest of your life.
2. Learning Mandarin will give you a competitive advantage in the job market.
With many jobs requiring proficiency in Mandarin, learning Mandarin language will help you land your dream job and increase business opportunities. Speaking Mandarin will enable you to communicate with millions of people around the world and gain access to numerous jobs, greater career opportunities and a better quality of life.
3. Mandarin is easy to learn for Malaysians
Do you know that Malay and English has a lot of words that sound similar to Mandarin? The similarities among these three languages make it easy for Malaysians to speak Mandarin. This is a wonderful opportunity for us to learn Mandarin.
5 main reasons we start Mandarin Class Klang
1. Vincent was born in Indonesia and he had the opportunity to migrate to Malaysia for Mandarin education. That is exactly where he picked up his Mandarin, which has always been interesting language for Vincent.
2. Our experience in China, particularly in Guangzhou, made us realised that many Western people can speak Mandarin fluently and they can even crack a joke! Then we wondered why not Malaysians?
3. Malaysia demography: We have around 20% of Chinese population in Malaysia. Chinese can speak English, Malay and Mandarin. If more Malaysians can understand and speak Mandarin, this will definitely strengthen our bonding among multi-racial, multi-culture and multi-lingual country.
4. Importance of Mandarin: If you can master Mandarin, you have a competitive edge, which can be use in International business. In fact, Mandarin is the most widely spoken language in the world.
5. We have discovered super effective technique for you to speak fluent Mandarin! You will be able to speak Mandarin accurately and effectively within first month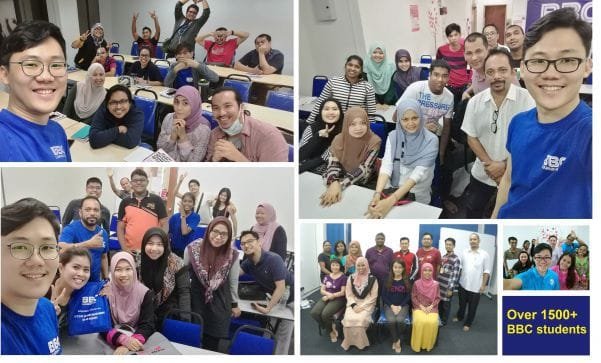 Mandarin Class Klang

For Adult Course : Click here for enquiry
For Children Course : Click here for enquiry
BBC Learning Hub Ara Damansara
https://goo.gl/maps/ZMbgGjEMYHy
Oasis Square, D2-03, Capital 4, 2A, Jalan PJU 1A/7A, Ara Damansara, 47301 Petaling Jaya

BBC Learning Hub Cyberjaya
https://goo.gl/maps/EgroWM4soXt
A-1-11, Cybersquare, Jalan Teknokrat 6, Cyber 5, 63000 Cyberjaya
BBC Learning Hub Shah Alam
https://goo.gl/maps/x3B1J36SVqR2
No. 40-1, Jln Sg. Burung AA 32/AA, Seksyen 32, 40460 Shah Alam