MANDARIN CLASS FOR ADULTS
SPEAK MANDARIN FLUENTLY AND CONFIDENTLY IN 2023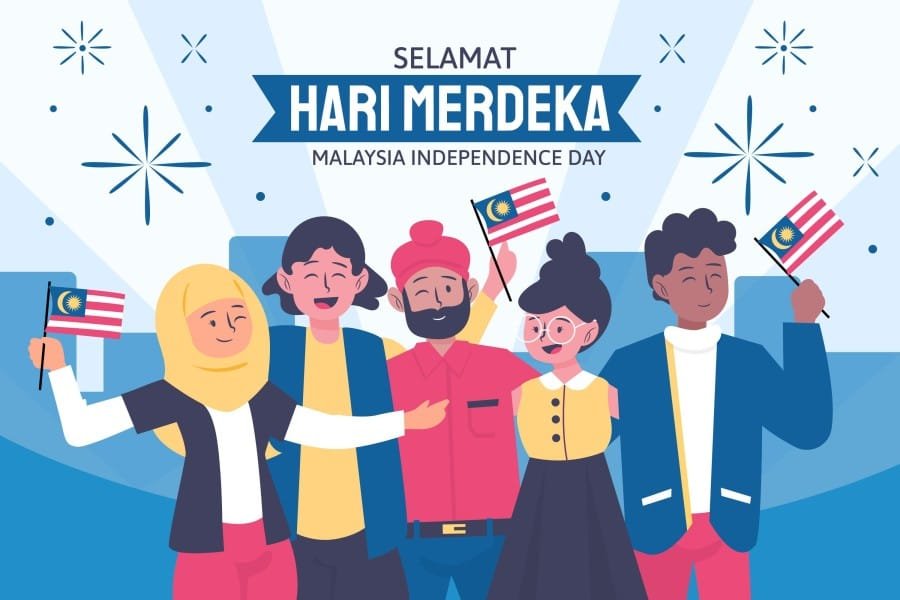 BBC is the only Mandarin centre that guarantee you can speak fluent Mandarin with 500 words or else you can re-take whole course for FREE!
Why there are more and more people learning Mandarin?
1. Did you know that some jobs offer higher salary for those who are proficient in Mandarin?
With many jobs requiring proficiency in Mandarin, learning Mandarin language will help you land your dream job and increase business opportunities. Speaking Mandarin will enable you to communicate with millions of people around the world and gain access to numerous jobs, greater career opportunities.
2. Did you know that Malaysia has a Chinese population of approximately 25%?
Being able to communicate in Mandarin with Chinese people strengthens bonds and understanding. Cross-cultural friendships, expanded career opportunities, exciting travel adventures, and deeper insights into how others see the world will benefit you for the rest of your life.
3. Did you know that learning a new language widens our perspective, expand you horizons and deepen our knowledge?
A new language means new perspectives, new ideas, new knowledge and a deeper connection with other people. Studies have shown that a new language can change how the human mind pulls information together, hence, enabling multilinguals to have more than one perspective on a particular issue.
For decision-makers, this may facilitate negotiations and the ability to see both sides of an argument and different points of view. This is why multinational companies are looking to employ more multilinguals
In short, learning Mandarin language is not just about having an advantage in the workplace; it is about opening yourself up to new experiences and possibilities. It broadens your mind, opens up opportunities and you gain skills that will serve you throughout your life.
How to understand and speak fluent Mandarin?
Learn Mandarin Chinese Step by Step: The Newbie's Road Map
Step 1 : How to pronounce every word accurately?
This is one of the main hurdles of learning Mandarin that throws new learners off. However, tones are rather simple once you understand how they work. Here's an example of the word ma with 5 different tones (different tones, different meanings) :
妈 (mā) — mother
麻 (má) — numb
骂 (mà) — scold
马 (mǎ) — horse
吗 (ma) — a question mark (?)

Step 2 : How to memorise new vocabulary efficiently?
This is actually the most difficult part in learning new language. We may quickly forget the new vocabulary we have learned. We understand the difficulties of memorising so many vocabularies.
Many teachers out there would just translate English to Mandarin to teach their students. This makes us different from other teachers. In BBC, we apply long-term memory methods to make sure students can remember the words forever.
Method #1 Slow Motion Technique
We will explain the logic of Mandarin and bridge the gap between English, Malay and Mandarin thinking. There are strong correlation among Malay, Mandarin and English languages. Slow Motion Technique will show you the logic of Mandarin and explain the meaning behind every word.
Method #2 Mnemonic / Homophonic
Method #3 Use body language / Do the action
Method #4 Make a sentence with emotion
etc….
Step 3 : How to form sentence structure correctly?
BBC formula for sentence structure is STPA – Subject Time Place Action
Step 4 : How to speak Mandarin fluently and confidently?
This is the last step that most people ignore.
Unless you are only learning few words, no one can speak a language in just few days or weeks! 
If you want to speak Mandarin language fluently, you have to practice speaking everyday. Practice makes perfect!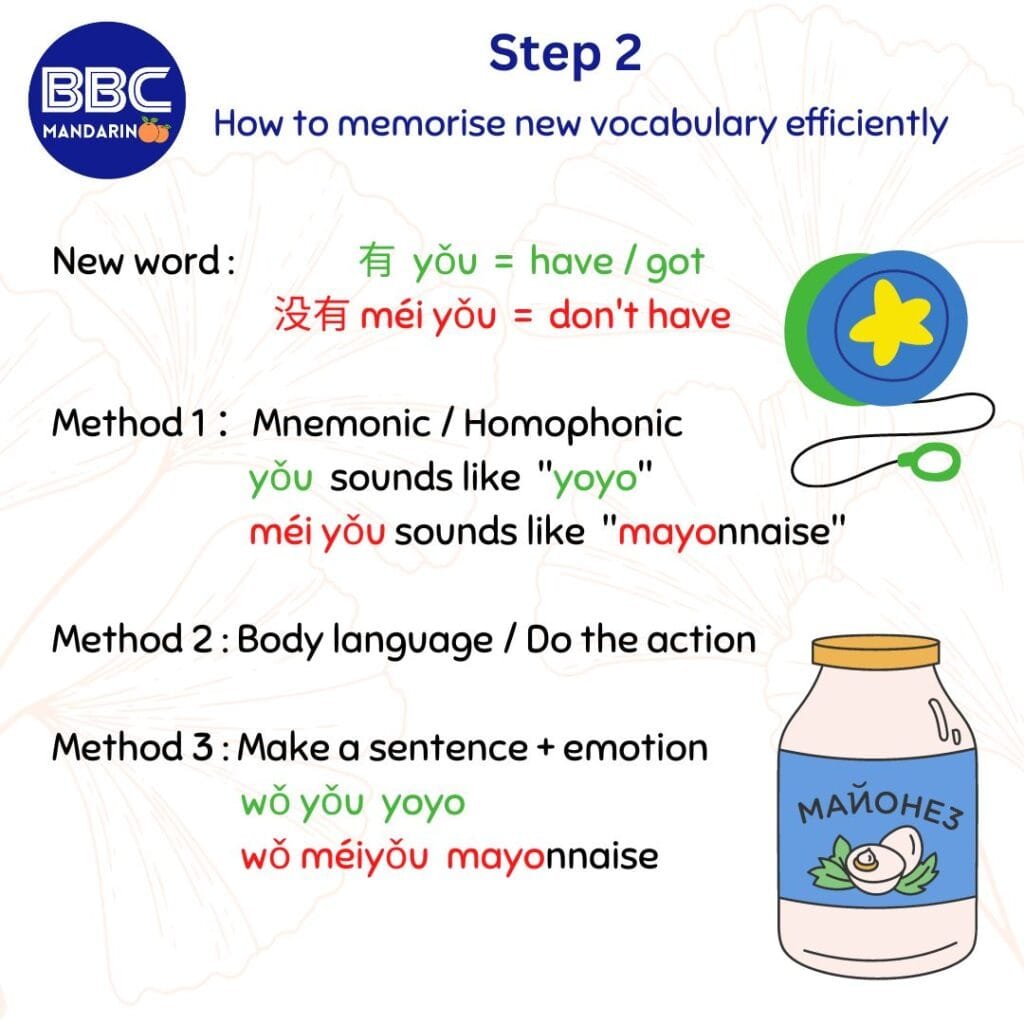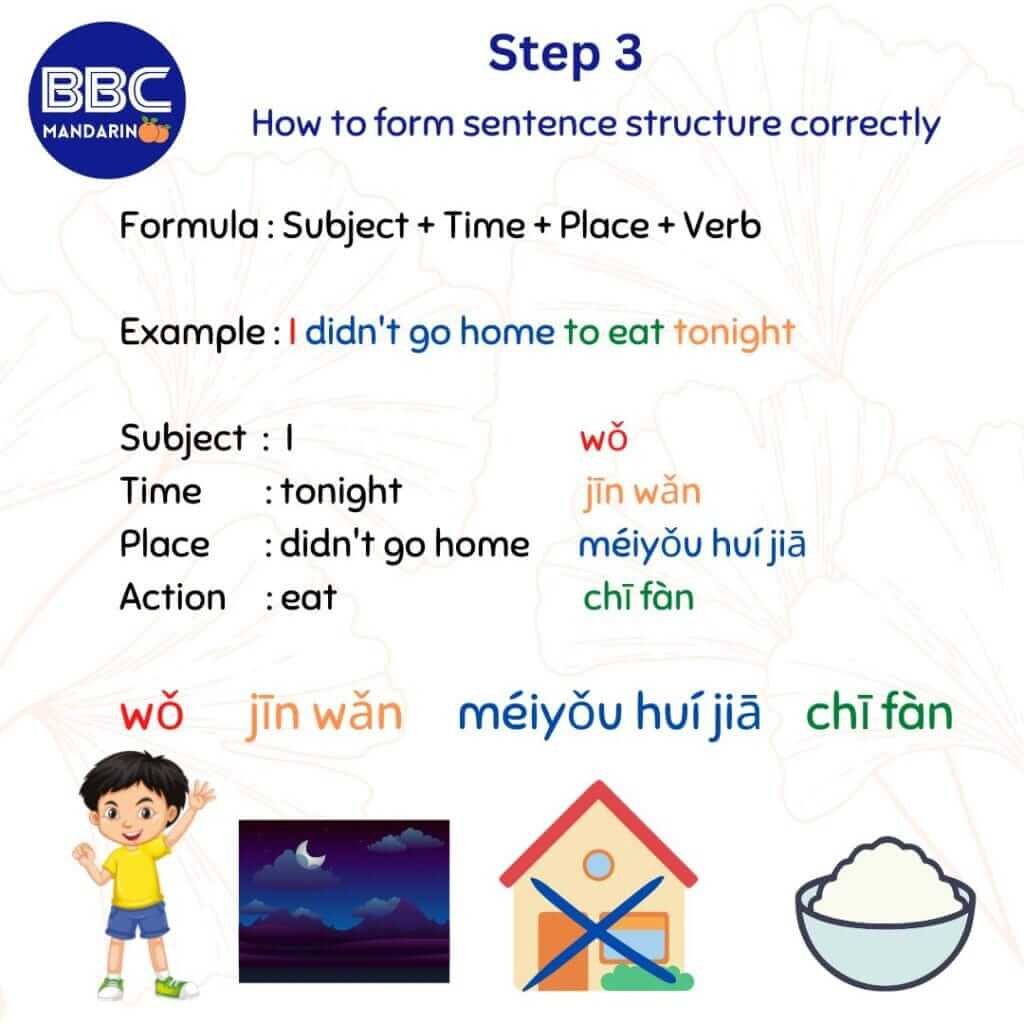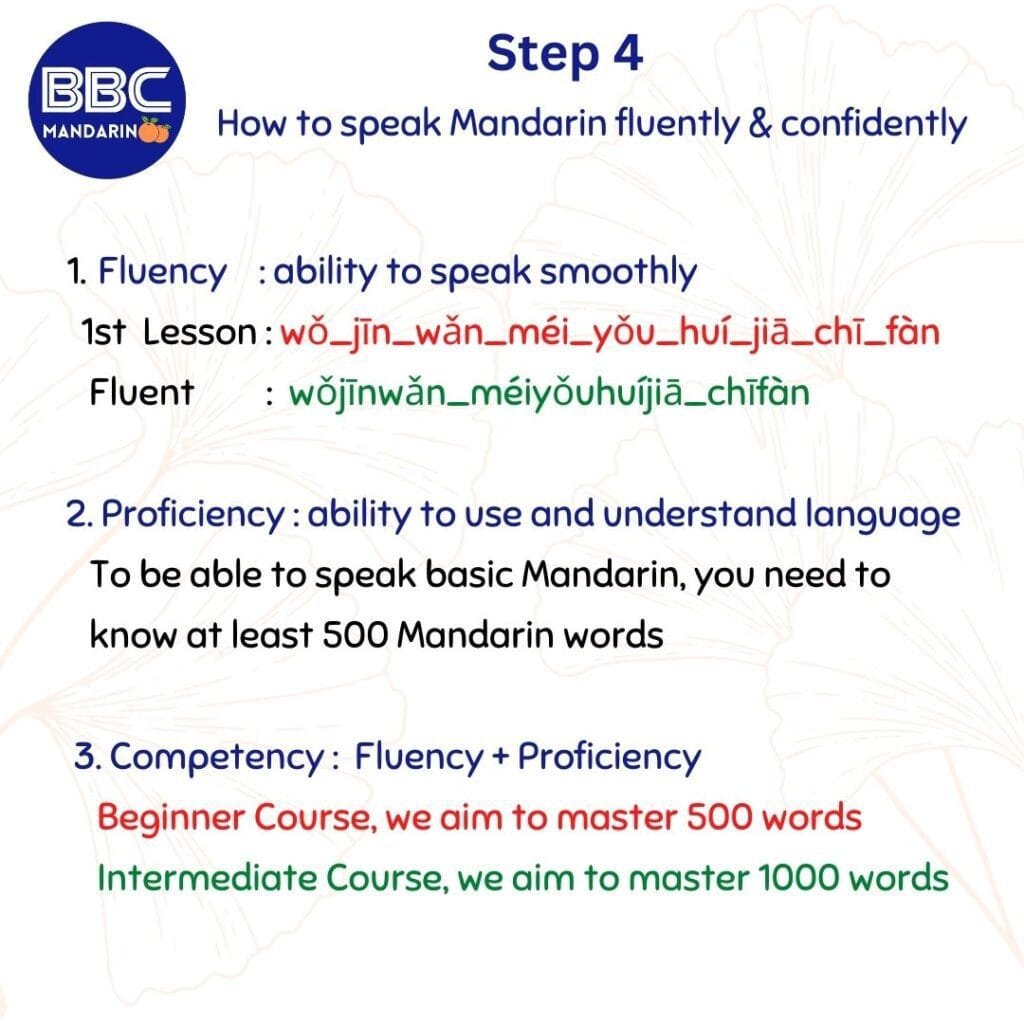 How BBC can help you speak fluent Mandarin?
Learning a language is not easy but with dedication and some helpful tips from BBC, we know that anyone can become fluent in Mandarin language if they have patience and stick with it!

BBC makes your language learning experience much smoother and more fun! We simply Mandarin language for you so that you can save your time and effort in learning Mandarin.

First of all, we set our goal to master 500 Mandarin words in 6 months for BBC Beginner Level.
Setting realistic goals will help keep you motivated and give you milestones along the way that make it easier and more enjoyable to learn!
You can try aiming for being able to hold basic conversations with native speakers by the end of the year.
Secondly, we keep track of your progress
Tracking your progress is one of the most effective ways to stay motivated. Whether it's keeping track of words learned or skills mastered, having tangible evidence of how far you've come can be incredibly rewarding! 
1st month – Speak 100 Mandarin words (10% Mandarin, 90% English)
2nd month – Speak 200 Mandarin words (20% Mandarin, 80% English)
3rd month – Speak 300 Mandarin words (30% Mandarin,70% English)
4th month – Speak 400 Mandarin words (40% Mandarin, 60% English)
5th month – Speak 500 Mandarin words (50% Mandarin, 50% English)
Lastly, if you'd like to practice more after 6 months, you can continue to join our class for FREE! because practice makes perfect! We're confident that you can speak fluent Mandarin with 500 words or else you can re-take the whole course for FREE!
BBC Master Trainers Mandarin Class For Adults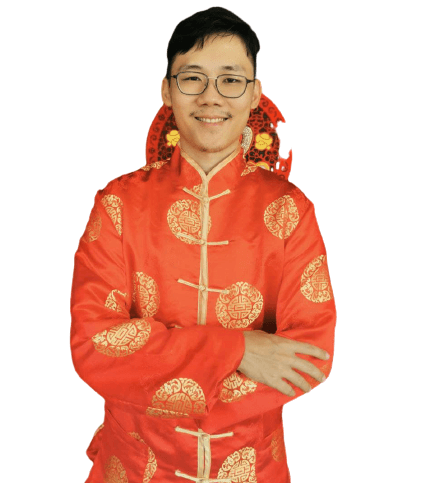 -HRDC-certified trainer with 5 years experience teaching Mandarin in Petronas, MISC, RISDA, Invest Selangor Bhd, MBSA, Universiti Pendidikan Sultan Idris (UPSI), etc
-Coached over 6000 participants from Malaysia, India, Indonesia, US, UK, Japan, Korea, Germany, Thailand, etc

-Born in Jakarta and came to Malaysia for Mandarin education
-Graduated with first class honours in UTAR
-Completed ACCA in Sunway College
-Speak English, Malay, Mandarin, Bahasa Indonesia, Hokkien, Cantonese, Japanese, Korean, Tamil (still learning)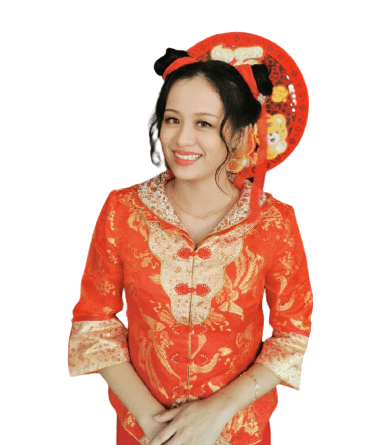 -HRDC-certified trainer with 2 years experience teaching Mandarin in Kindyland, Linaco Resources, Henkel, etc
–Achieved Percentile Rank 90% (total score: 254/300) in HSK6 
-Top student in Chinese subject & achieved A1 in SPM Chinese subject

-Coached over 1000 adults and children from Malaysia, India, Indonesia, US, UK, Japan, Korea, Germany, Thailand, etc
–Graduated with Bachelor of Engineering (Honours) Environmental Engineering in UTAR
-Experience in translating Mandarin technical documents to English
BBC Mandarin Class For Adults Beginner Syllabus + HSK1
Topic 1 :  Foundation of Mandarin
-How to pronounce accurately with Chinese pinyin and tones
– Differences between Mandarin Chinese and other dialects
– Comparison among Mandarin, English and Malay languages
– Main advantages and benefits of knowing Mandarin

Topic 2 : Self-Introduction
– Introduce my basic details: name, age, location, job, hobby, etc
– Tell about the likes and dislikes
– Express opinions or feelings about a particular issue or topic.
Topic 3 : Greetings
– Greetings in different timings
– How to greet public, friends and family appropriately

Topic 4 : Numbers
– How to say number from 0 up to 1 million
– Apply numbers in various contexts, i.e. currency, telephone numbers, etc 
Topic 5 : Date and Time
– How to tell the calendar month, date, day of the week
– Expression of time, hour, minutes
– Conversation about time and date
Topic 6 : Closed-ended questions and keywords
– Demonstratives
– Common words in daily life
Topic 7 : Open-ended questions
–  What, Where, When, How, Why, What time, Where…

Topic 8 : Buy & Sell things
– Ask and tell about the price, quantity, size, etc
– Common things, objects in daily life
– Common conversation between buyer and seller 
Topic 9 : Order food and beverage
– How to order food, takeaway
– Common food and beverage in menu
– Conversation in restaurant 
Topic 10 : Weather and Transportation
– Ask about the weather
– Modes of transportation
– Common places
Topic 11 : How to ask and answer any question
– How to organize one's thoughts and communicate in correct sentence structure
– Ask polite questions, answer questions and seek information 
Topic 12 : Workplace conversation
– Understand and respond to basic instructions in various business contexts
– Talk about daily business conversation
– Common conversation among colleagues
Sing Mandarin songs, Examination & many more..
BBC Mandarin class for adults :
1. Beginner level (Learn 500 words)
2. Intermediate level (Learn 1000 words)
3. Advanced level (Learn Chinese characters)
BBC Mandarin class fee :
1 to 1 Private class : from Rm100 per hour
Online Group class : Rm60 x 12months
Offline Group class : Rm125 x 12months