Mandarin Class Subang Jaya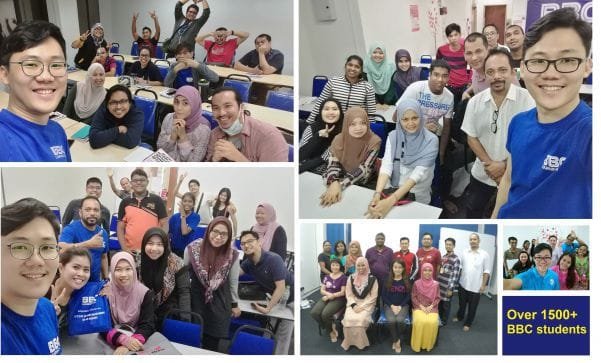 BBC Beginner Conversational Course
This course is designed especially for teenagers and adults who have zero or little basic of Mandarin. It is the ONLY Mandarin course in Malaysia that guarantee you can speak fluent Mandarin in 1 year or you can re-take the whole course 1 year for FREE! This course primarily focuses on understanding and speaking Mandarin (we'll will learn pin yin, not Chinese characters)
We have successfully developed a unique teaching system that will help you understand and converse in Mandarin. You will see that you will 'fall in love' with Mandarin from the first class and be more confident to speak Mandarin to anyone, anytime and anywhere. 
In this course, you will learn:
– To understand 85% of Mandarin and start a conversation about practically anything
– How to understand and memorize 4,000+ of the most essential vocabulary and 1,000+ phrases that we commonly use
– How to read and write correct pinyin that will turn into correct Mandarin characters when you type it in a computer/handphone
– Useful insights into Chinese culture and 'mindset'

Learning outcome:

After 3 months, students should be able to speak around 15% in Mandarin.
After 6 months, students should be able to speak around 50% in Mandarin.
After 12 months, students should be able to speak around 85% in Mandarin.
Our greatest satisfaction is to be able to help every BBC student speak fluent Mandarin!
Requirements to join BBC course
Students must be able to understand basic English in order to join the class. It would be better if students understand Malay as well, but it is not compulsory. Somehow Malay is quite similar to Mandarin in terms of sentence structure and pronunciation. The medium of communication in class is mainly English and sometimes Malay (whichever is easier for students to understand).
After joining the class, all students must speak Mandarin everyday. If you have no friends or colleagues to practice with, you can always send a WhatsApp voice message to BBC teachers. It is also important for students to do the homework given in every class. Students have to submit the homework and send voice messages to their BBC teacher every week. This will improve spoken Mandarin significantly as BBC teachers will help you to start with using what you have learnt.
To know more about Beginner Course, please click and choose your preferred branch. Currently, there is no Mandarin Class Subang Jaya, nearest branch to you is Shah Alam or Petaling Jaya.