Chinese Corporate Training
Chinese Corporate Training is our strength. Our corporate clients include large and small companies, government organizations, international schools, and various other organizations. Many companies consider us their exclusive Mandarin corporate training partner.
We help our corporate clients to achieve their corporate training targets by providing top quality corporate training services and tailor-made Chinese courses to meet their specific needs. We take care of all aspects of the training process so that corporate clients save their time and costs.
BBC Chinese Corporate Training is available nationwide, choose from extensive weekly Mandarin Chinese sessions at your offices or BBC centre. In addition to face-to-face training options we also provide blended and virtual training.
BBC Chinese Corporate Training, you will discover how to:
✅ Pronounce every Mandarin words 100% accurately
✅ Stop memorising and keep forgetting Mandarin words
✅ Speak Mandarin confidently even with limited vocabs
✅ Understand and recognise keywords that people say
✅ Start knowing and speaking Mandarin from Day 1
BBC Chinese Corporate Training is suitable for:
Anyone who want to understand and communicate with Mandarin speakers

Executives conducting business regularly with Mandarin Chinese speakers who wish to build rapport and strengthen relationships

Government and non-governmental agency representatives who are working with Mandarin speakers
BBC Chinese Corporate Training  will provide you with the ability to:
Build rapport and strengthen relationships with Mandarin-speaking contacts through a show of interest in the Mandarin language and Chinese culture

Interact more confidently when visiting Mandarin-speaking regions or dealing with Mandarin speakers

Demonstrate good will and facilitate international communication at both a personal and organisational level
At the end of BBC Mandarin Corporate Training, participants will be able to: 
Understand daily conversation in business and social settings

Communicate in Mandarin to anyone all around the world 

Understand grammar,  important vocabulary and sentence structure

Type Chinese characters in computer and handphone 

Read and write simple Chinese characters
Chinese Corporate Training
Ni hao, my name is Vincent Ong, I am the master trainer for BBC Mandarin Corporate Training.
And before I can master Mandarin language…

… I must confess I was struggling to learn Mandarin.
I born in Jakarta, Indonesia and I migrated to Malaysia when I am 6 years old to study Mandarin because they know Mandarin is very important for my future.
I prefer to speak Bahasa Indonesia but my friends and teachers prefer to speak Mandarin. 
I almost give up learning Mandarin until I met a dedicated & interesting teacher who inspired me to learn Mandarin. I feel blessed to have Mandarin education in Malaysia. 
After graduated, i worked as Accountant for few years before decided to follow my passion, which is to help non-native Mandarin speakers to master Mandarin language. 
I have learned English, Malay, Mandarin, Bahasa Indonesia, Hokkien, Cantonese, Japanese, Korean languages, etc. I think Mandarin is the easiest among all languages that I know.
Nowadays, many companies and individuals aware that knowing Mandarin will help them in getting more business opportunities and better career prospects.
Conducting BBC Mandarin Masterclass in Petronas KLCC
Singing Chinese New Year Song in GM Klang
100% Satisfaction from BBC Chinese Corporate Training Clients
About BBC Mandarin Masterclass
BBC Learning Hub Plt LLP0007993-LGN (Belajar Bahasa Cina) is established in May 2015. Our company is approved training centre registered under Human Resources Development Fund (HRDF) and Ministry of Finance (MOF). Our mission is to provide quality Mandarin language instruction and to promote international and intercultural understanding. 
With more than 5 years experience of working with private and public sector organisations across all industries and sectors, we are ideally placed to help you achieve the level of business or social Mandarin Chinese you require. Here are some of our amazing corporate clients:
☑️ Petroliam Nasional Berhad (PETRONAS)
☑️ MISC Berhad
☑️ Sapura Secured Technologies Sdn Bhd
☑️ Les' Copaque Production (Upin & Ipin)
☑️ Pihak Berkuasa Kemajuan Pekebun Kecil Perusahaan Getah (RISDA)
☑️ Gamuda GM Klang Sdn Bhd
☑️ Invest Selangor Bhd
☑️ bzBee Consult Sdn. Bhd 
☑️ QS Enrolment Solutions APAC
☑️ Open Learning
☑️Acre Works Sdn Bhd
☑️ Majlis Bandaraya Shah Alam (MBSA)
☑️ Universiti Pendidikan Sultan Idris (UPSI)
☑️ Henkel (Malaysia) Sdn Bhd
☑️ Superfood Biotech Sdn Bhd
☑️ Kindyland Golf Sdn Bhd
☑️ etc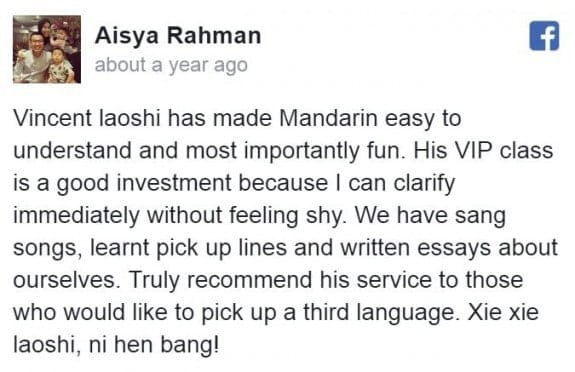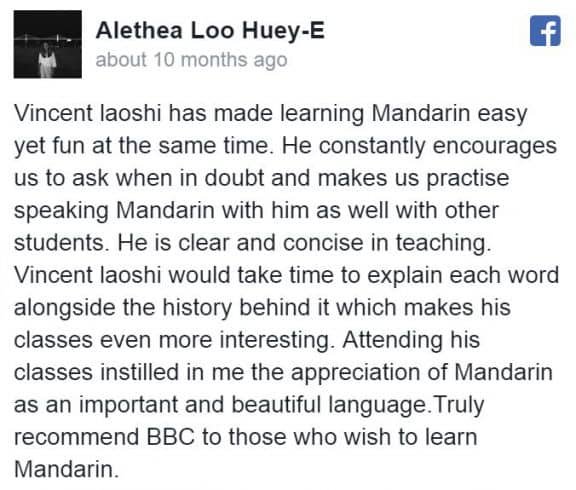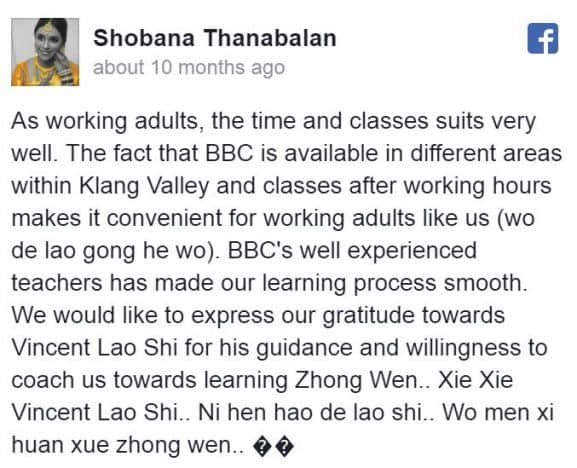 "Xie Xie Vincent, Alan, Minn lao shi. In 2020, I have literally zero basic of Mandarin and after joining BBC Masterclass, I can understand and speak Mandarin fluently with Chinese friends, i can also read and write Chinese characters. Now i am BBC assistant tutor and everyday we speak Mandarin in whatsapp group!"

Asmah joined BBC in 2020
Open up new opportunities and gain information by learning new language
Building a successful relationship, career or business is very much about "speaking the same language"
Just imagine, you must speak the same language with:
☑️ Your existing customers, so that they are more likely to buy from you
☑️ Your potential customers, so that your marketing can be effective
☑️ Your team members, so that you are able to communicate your thoughts
☑️ Your business partner or investors, so that they are more likely to want to work with you or invest in you
If you can't speak the same language with the person that you are talking to, there is no way for you to have an effective communication
"Saya ingin mengucapkan kepuasan saya dengan kursus BBC. Pada minggu ketiga, saya sudah dapat membina ayat dan mewujudkan perbualan dengan rakan sekerja. Melalui kursus ini saya menyedari bahawa ia tidak mustahil untuk orang dewasa untuk belajar bahasa cina. Terima kasih BBC!
Saiful, joined in May 2015
"Belajar Bahasa Mandarin di BBC telah menjadi salah satu perkara yang terbaik yang saya lakukan pada tahun ini. Syllabus yang sangat lengkap dan jadual kelas yang sangat fleksibel, jadi saya boleh pilih kelas yang sesuai untuk saya."
Elcitah, joined in May 2015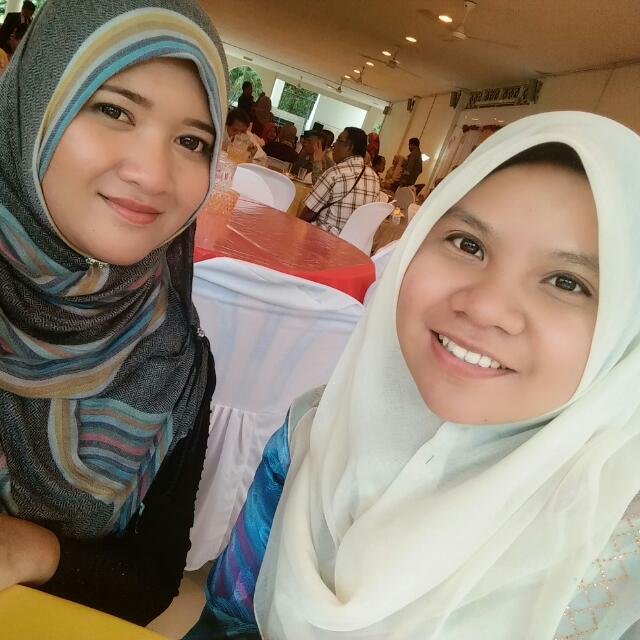 Saya sangat kagum dengan teknik yang digunakan oleh cikgu Vincent, beliau boleh menghubungkan Mandarin dengan bahasa Melayu dan Inggeris. Ia membantu kami untuk belajar Mandarin dengan cekap dan berkesan. Dengan bantuan Vincent, saya boleh cakap Mandarin dengan fasih sekarang. Saya pasti akan mengesyorkan rakan saya untuk menyertai kursus BBC!
Hidayah, joined in September 2015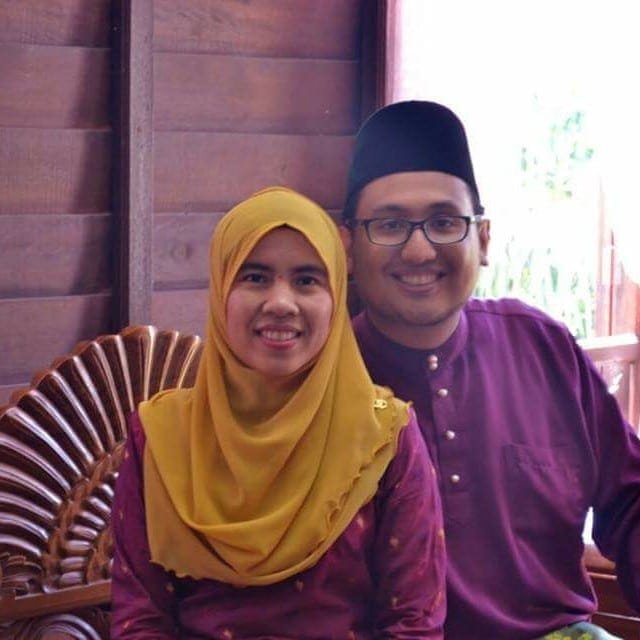 "Walaupun kami langsung tidak ada basic dalam Bahasa Mandarin, kami dapat cakap Mandarin lepas kursus BBC. Kami juga sangat menikmati proses pembelajaran yang disediakan di BBC. Kami ingin membuktikan kecekapa coach BBC, khususnya coach utama saya Vincent. Saya rasa coach BBC amat komited dengan proses pembelajaran kami. Tahniah! Semoga prestasi terus cemerlang!"
Illi & Haikan, joined in September 2015